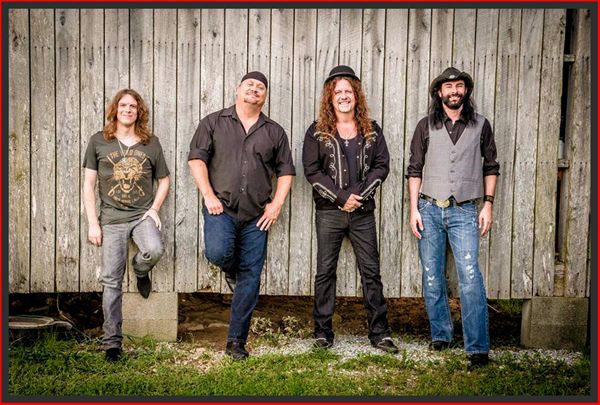 Step into Skinny Molly's world and you'll come face-to-face with the deceptive lover from Lie To Me, the girl hiding a gun in her glovebox on Too Bad To Be True, and the poisonous call of liquor on Devil In The Bottle. With music that swings from the wrecking-ball riffs of If You Don't Care to the reflective acoustic vibe of None Of Me, this is maximum rock 'n' roll, zero pretension, and when Mike Estes roars: "Hey rock star, just shut up and rock!" on the track of the same name, there's no doubt the Skinny Molly singer is leading by example.

But killer songs were only half the equation. Great rock 'n' roll is also about chemistry, and if the walls of Alabama's Swamper Sound Studios could talk, they'd tell of a recording session where four world-class musicians collided and caught the sparks. On soaring vocals, slide guitar, mandolin and baritone, Mike is a force of nature. Jay Johnson delivers sizzling fretwork and supporting vocals, while the rhythm section of Kurt Pietro (drums) and Luke Bradshaw (bass) crank out the swing and sting with grit and grace. Some say there's magic in the air in Sheffield, Alabama – the city where benchmarks from the Stones' Brown Sugar to Dylan's Gotta Serve Somebody were nailed at the nearby Muscle Shoals studios – and it was thrillingly captured on this self-produced release.
'Haywire Riot'
The American South isn't just a point on the compass. It's a state of mind and way of life. It's the way you think, drink and tip your hat. It's the land where music is king, and the bands who make it are gods. When you strum a guitar south of the Mason-Dixon Line, you're running with a rock 'n' roll baton that's been carried by everyone from the Allman Brothers to Lynyrd Skynyrd. It takes a special kind of modern band to walk in those footsteps, but in 2012, Skinny Molly are back to storm the podium and ram-raid a rock scene crying out for heroes. Batten down the hatches: there's a Haywire Riot goin' on…

The four members of Skinny Molly might have heavyweight history, but Haywire Riot is all about the here-and-now. Released in early-Fall through Ruf Records, this is a follow-up record that hijacks the modern rock scene, via the old-school values of stellar songwriting, white-hot chops, lyrics wrenched from the depths and performances that leave it all on the studio floor.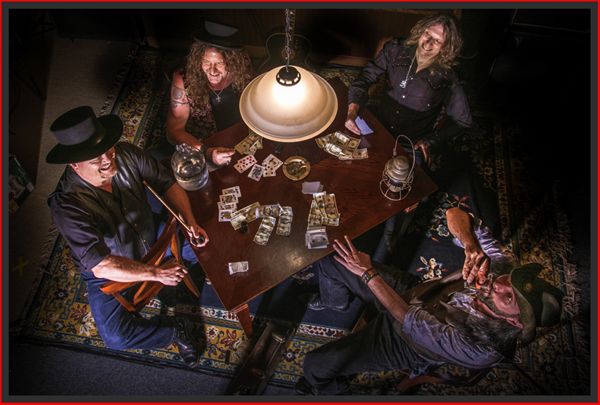 Haywire Riot is the album that Skinny Molly have promised us since 2004, when Mike hooked up with Kurt and original guitarist Dave Hlubek for a 'one-off' tour of Europe that never stopped. Soon enough, a debut album – No Good Deed – was pricking ears with its early signs of greatness on cuts like Straight Shooter and Better Than I Should. Now, with the lineup cemented and dedicated to the cause, it's time for the knockout blow of this new release.

Haywire Riot is sure to recruit new fans on the strength of the music, but it doesn't hurt that all four Skinny Molly members are legends in their own right. After striking up an unlikely friendship with Allen Collins while still a teenager, Mike's first band, Helen Highwater, was both christened and given guidance by the late Lynyrd Skynyrd icon (who once gave him an eight-hour guitar lesson), and the bond deepened when the young band opened up Skynyrd's '87 Tribute Tour. Clearly, the Southern legends liked what they heard, and after a period as a behind-the-scenes writer in the early-'90s, Mike was invited by Gary Rossington to join full-time, appearing on releases like 94's acoustic-led Endangered Species.

 Post-Skynyrd, Mike has smashed the Billboard chart with his co-written White Knuckle Ride single, and released two solo albums under his own steam – Driving Sideways and Brave New South – while remaining a fixture of the planet's magazine covers and music channels on the strength of his prolific talent. Back in 1995, he was inducted into the Hollywood Rock Walk Of Fame, but with Skinny Molly, you sense he's only just getting started.

Kurt has been Skinny Molly's big-hitter on the drumstool since the start. Fusing the influence of players like Jakson Spires of Blackfoot and Mötley Crüe's Tommy Lee into his own stellar technique, Kurt soon graduated from a bedroom wizard to a revered Michigan studio ace and a live powerhouse with early outfit Crystal. He subsequently studied broadcasting and music at Michigan University, leading to a job at Omni Studios in Nashville, and the fateful day when a visiting Mike asked if anyone could play a drum overdub. Kurt's hand went up. The drum part was duly knocked out of the park. Skinny Molly had just found its drummer.

 Kurt's skills demanded a ground-shaking bass talent, and in 2012, Skinny Molly's rhythm section is thrillingly completed by Luke Bradshaw. Picking up the instrument aged 15 after hearing the low-end skills of Skynyrd's Leon Wilkeson and the Allmans' Allen Woody, his CV now takes in work alongside American Idol's Bo Bice, Grand Ole Opry star George Hamilton IV, bluegrass artist Bobby Hicks, and Jesse McReynolds and the Virginia Boys. Equally adept on electric or standup bass, and able to bend his talent to any project, Luke is arguably never better than when giving a fat low-end to Skinny Molly.

With Mike Estes in the lineup, some guitarists might feel the pressure. Not Jay Johnson: the band's six-string stinger missile and perhaps the only player capable of standing toe-to-toe with his frontman. Jay got his break at Muscle Shoals Sound Studio as a session guitarist for Malaco Records artist Mary Burns, and since then his talent has spread its wings into writing, production and audio engineering. After early duties in Radio Tokyo, Jay joined The Rossington Band from 1986 to 1989 (a period during which he played on the Skynyrd Tribute Tour, rocked over a million fans and released two major-label LPs) and by 1994, he'd hooked up with Blackfoot's Jakson Spires and Molly Hatchet's Dave Hlubek in the Southern Rock Allstars. His stint as Blackfoot's vocalist in 2006 makes him the ultimate backup singer for Skinny Molly, while many past shows alongside Mike – including several acoustic duo tours – mean he's the perfect wingman.

Apart, they're awesome. When these musicians come together as Skinny Molly, it's a molotov cocktail of talent that's sure to blow the roof off when they take this second album out on the road. Sure, things may go a little haywire when these boys roll into town. But trust us – you'll definitely have a riot…