Finland Finally!
After waking up to leave my beloved Tennessee, I found myself in the constantly under renovation  Vantaa airport near Helsinki. Both of my bags had miraculously arrived, which is always a great way to start a tour. I have one huge suitcase with scarcely anything in it; my day clothes, stage clothes, shaving kit and little else.  I mostly have this monstrosity for bringing cool stuff from Finland back home, which includes cigars, various bottles of exotic liquor, and sauna supplies. The smaller one has band merch and my constantly-exploding-due-to-being-overloaded "road bag" which contains everything I need on the gig. The band, including my full time bro and some time booking agent Sami were there waiting for me.

Everybody (except Sami) was looking  about  how I felt. It's always great to see Sami, (and the guys of course) he's a fabulous and talented cat who works hard and plays as hard or harder than  he works. He's riding herd on this tour and I'm damn grateful he is. In all other parts of Europe, I do what he does, and he's one of the few people in the world I would trust to road manage this band.

Luke especially looked tired, which I totally understand, as he and I share a complete inability to sleep on airplanes.  I usually use him as a mirror after a long day of flying and I'm semi dismayed by my virtual reflection. Jaybird has the enviable ability to sleep wherever he is; bus stops, taxis, park benches, Hotel lobbies, ditches; anywhere but on stage, so he appeared to be a little more rested than Luke and Kurt...We still had about a three hour drive to the first town on the agenda. 
Savonlinna is a breezy little town surrounded by water. A consummate fishing town. Wonderful and typical wooden Finnish  homes. Summer is probably as good here as anywhere in the world. I notice its a little cool outside for this time in May, but my worries are quickly extinguished when Sami gives me the weather forecast for the coming days. Real Spring/Summer weather will be here any day. We get the gear loaded up in Sami's former-police-bus-now-tour -bus affair,  and I wonder to myself how many musicians have ridden in it when it was on duty in its former official capacity. Within ten minutes, JBird was crashed, snoring and smiling. We made a quick stop for various  refreshments, and I picked up a couple of vessels filled with my favorite Swedish "cidere" that I learned to love in Sweden years ago. It's called Rekorderlig Strawberry and Lime. Suffice to say Its like drinking "summer in a bottle", especially when poured over a big glass of ice. There's not an abundance of ice available (other than bars or hotels) in Finland for drinks, which can be troubling to an ice-loving American like myself. (One can't buy ice in bags  like you can back home. They probably figure they get enough ice with their brutal winters,  and once May hits, they don't want to see any again until late September). After one cider, I wasn't far behind Jay in catching some must needed sleep and neither were Kurt or Luke. An hour or so in, we were all hanging our heads chin to chest, sleeping and drooling to our collective heart's content.

I'd been on the road to Savonlinna many, many times, so I didn't feel as if I was missing any sites by throwing some Z's  in my  woefully overdrawn sleep account. We arrived at the hotel, which is typical Finnish. Not the Waldorf Astoria, but clean, comfortable and utilitarian. Next up was to find some grub. As a long time confirmed consumer of anything edible that lives in the water, I decided to once again live by my long-held -to mantra: "When on the water, eat the fish". And in Finland, you are rarely far away from water, which is just one more reason to love  it here. As the temperature outside (about 50 F) felt like "soup weather" after being acclimated to Tennessee's early summer heat,  I killed the proverbial "two birds" by ordering "perch soup". It was beyond perfect, and expensive as hell. Kurt got his usual pizza, and Jbird got a killer salmon sandwich. I was eyeing it the whole time. Luke skipped supper for bed and spent the next 11 hours there.

Next up, a short trip to the K store located directly across the street for a few hotel supplies for the in-room fridge. I've been a huge fan of of the peppered salami available here for the last fifteen years, and the cheese in Finland makes our cheese at home taste like hide glue. I got about a two day supply of each, along with some of my favorite Czech beer, a couple of bottles of the aforementioned cider and the one American product that tastes as good here as it does at home , good ol' Coca Cola. I'm set to head to the hotel sauna with fellow sauna aficionados Sami and JBird, after which I'll make a phone call home to my Dear ol' Dad to wish him happy B'day, and call it a night. The sauna session turned me into a rubber legged wet noodle, albeit a clean and happy one. Mission accomplished.

I barely remember laying down with the TV on (tuned to the one available channel, YLE), when I'm woken from my coma-like state about some five hours later at four a.m. by a very familiar voice that sounds as if it's owner is in my room talking to me. I try to shake off the drowsiness and I'm looking around the room to figure out where its coming from, because I'm sure that this person is RIGHT in my room. Before complete panic sets in, I figure out that it's coming from the TV, and it's my bro of a lifetime Teppo"The Country Doctor"Nättilä. Teppo is a legendary Finnish radio on-air man and a wonderful, wonderful cat that has been playing my songs from whatever band I've happened to have been in since 1994 on his Tuesday night radio show for the last 14 years or so. He's been a huge supporter of whatever I've done musically, and is an especially good friend of Skinny Molly. He and I share a kinship and brotherhood in everything to do with music, Cuban cigars, Cuban rum and life in general. He's Europe's number one authority on the subject of Cuban cigars; he makes trips to Cuba as much as he possibly can. Teppo has written great books and articles in magazines (that he has been so gracious to include me in) in addition to being a great old school On Air guy.  He's also a  member of a fabulous cigar club in Helsinki, and I was his guest there for an unforgettable experience a two tours ago. I had planned on calling him to meet with him on Saturday anyway, hopefully to hook up and burn down a good Castro, as I had picked a couple up for us during my long layover in Amsterdam. Teppo plays the best music you've heard anywhere on his show, ranging from stone country to blues to rockabilly, Americana, straight up rock and roll, to anything cool. He's a musician himself, and he gets life totally. A true National Treasure Of Finland. I listened to the entire show and the next thing I know I hear my own voice via a station ID I did with him a while back. Next up were two SM songs in a row, and a song recorded live from when I was in Skynyrd, all being played over the airwaves covering the entire country. It's a rebroadcast;the live show had went down earlier in the evening. He then tells his audience that Skinny Molly is in Finland and proceeds to list our entire tour schedule for the next two and a half weeks.. Teppo has always been one of my favorite people in the world, and I hope I get to hang with him on Saturday. What a wonderful welcome to Suomi by one of the finest people I know. Thanks, Teppo, you are truly Mi Hermano! 
Mike 5/14/14 6:00 in the am Finnish time. Gonna go see what they've got for B'fast.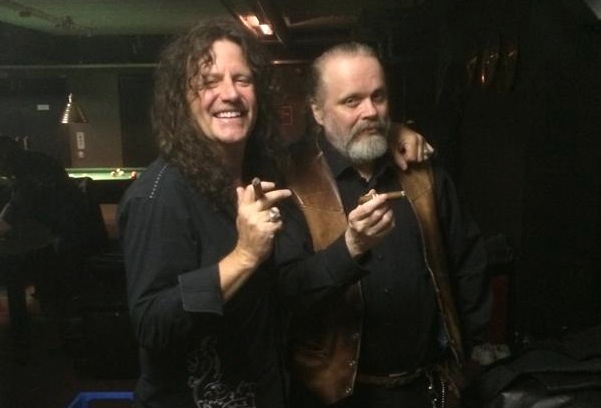 Teppo "The Country Doctor Nättilä and yours truly at Blackpool in Järvenpää, Finland at Blackpool