To celebrate Skinny Molly's Summer return to Sweden (It's been 10 summers gone since the band played Sverige) we are happy to announce the release of our brand new single (which can be downloaded here) to celebrate the band's summer return to the first country we ever played as Skinny Molly! 
  
The song, "Kräftor och Öl, Crawfish and Beer" celebrates the similarities  between a "crawdaddy boil" in the Southern United States and "kräftor parties" in Sweden…a good ol' fashioned crawdaddy boil (aka crawfish boil, Low Country boil, etc) is hard to beat, no matter what country you live in! The kicker here is this: Mike sings the song in both English AND Swedish, alternating between the languages every other line. 
"I don't speak Swedish all that well," he says. "It barely approaches rudimentary to tell the truth. I spoke it a lot better years ago, but I can still understand some, as long as whoever is speaking to me doesn't talk to fast," Mike laughed.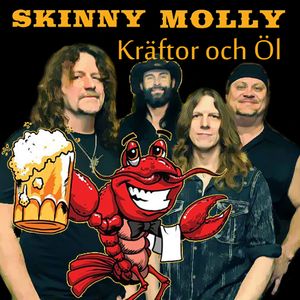 "But, it was really fun to record, and it brought back some great memories I have of Sweden and some of the people there that I'm still close to," Mike said. "Also, I started having boils at the house. I've eaten enough crawdaddy tails this summer to grow pinchers myself." 
  
"Kräftor" was originally slated to be on Mike's upcoming solo CD. 
"I cut it with some friends a while back, but I decided to do it with the band instead because Skinny Molly is actually playing in Sweden in August, when the Kräftor parties are happening there. So I thought it be better if the band did it," Mike said. 
The single will only be available for a limited time and will be followed up by a video at the end of the month. 
  
The lyrics show the singer's usual penchant for clever lyrics, and there is killer guitar all over the track; a deep grooving "Southern/Country Rock Buttkicker" if there ever was one! It's not just for the Swedes and the Americans. Enjoy it wherever you are!
 
Buy and Download - Click HERE!
 


Upcoming Events: 
24th August - Sankt Gertrud, Malmö Sweden   

26th August - The Bomber Bar, Motala Sweden   

27th August - Rockland, Sala, Sweden