Saturday, January 24 2015

Got up Saturday morning (note the word morning. This is 
not a good word in touring musician language) and packed 
up for our 4 hour trip to Skegness,UK to play the Rock
and Blues Festival at Butlins Holiday Park. It was cold,
but that was no big surprise. At least the sun was shining
again. A McDonalds stop was surely going to be in order,
as a few of us had quite a night at theTuns the night before.
The Rock and Blues Festival is basically the reason we
moved our "normal" touring window in the UK from
October/November to January. It's not a bad thing at all,
save for the weather, as the Rock And Blues is one of the
finest gigs out there to play; we'd done it twice before, and
it would prove to be great again this year.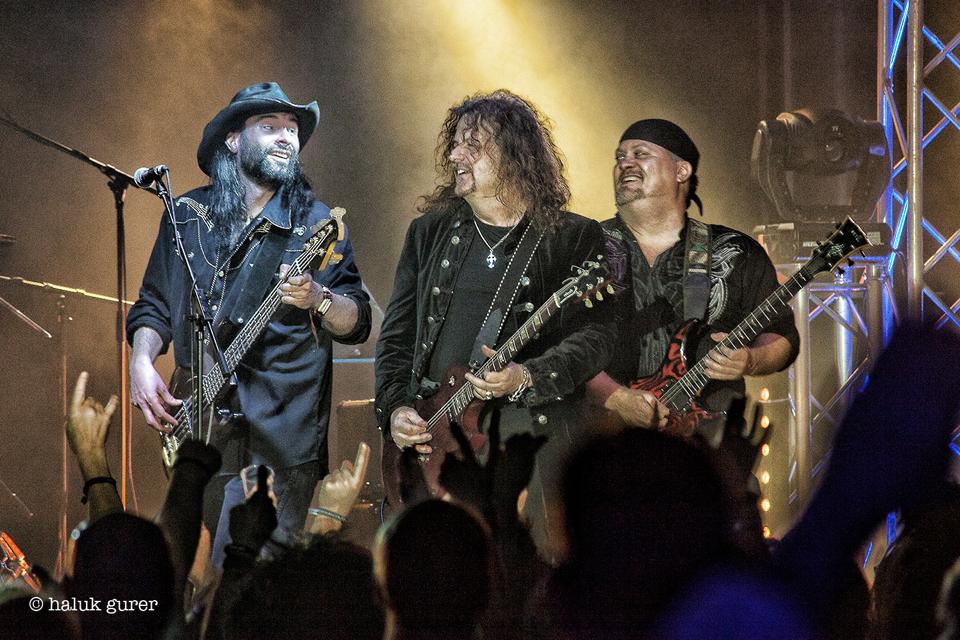 Rockin' at the Rock And Blues Festival Skegness UK           

An indoor festival of this size (there can be a couple thousand screaming rock fans in one room at one time) is difficult to make run like clockwork, but this one does. It's highly organized and pro all the way. The fabulous crew there got all the gear up there and running for soundcheck in minutes. I'm usually kind of slow mover at soundcheck, and basically use it to go over songs, parts of songs, our to try out new songs I've got cooking. Most of the places we play have a great in house crew that can get things going quickly with no problems.  I had a little trouble with my guitar signal, no big deal, the guitar rig hadn't been touched in a few months except for the previous night. The jack was a little crusty, and I can tell she just needed to be played…The monitors onstage and my in ear monitor sounded perfect. I was confident we'd have a good show.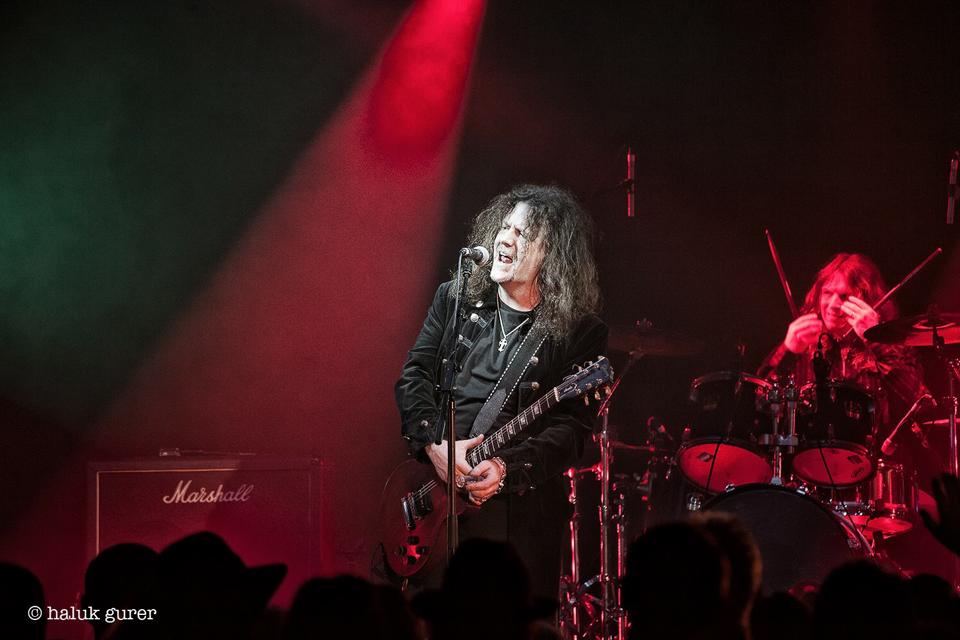 I must have said something funny. Kurt's laughing. Why ain't I? :D
We got in our cabins and some of us rustled up some food. Nothing out of the ordinary, and all was pretty laid back. We were to follow John Cohglin's Quo, good friends of ours from other similar gigs. John being the original drummer in Status Quo, they play a great set of Quo songs. They are some of the nicest guys you'd want to meet on the road, and they offered me use of any of their guitars or gear, as they had attended  our soundcheck and noticed I had a little trouble with my rig. THAT is the type of guys you want to do shows with, and we are the same way with other bands. There were loads of great bands on this gig!

We got back in the venue in time to catch JCQ.They played a rockin' set and really got the crowd going, and I was a little worried that we wouldn't go down as well as they did. From the opening lick of "Here For A Good Time", my worrying stopped. I knew from that second that as long as the gear held up, we'd have a great show. It did, and we did. Looking out at all the people in the crowd smiling, yelling, singing along… that's why I still do this. They were really with us, singing along to the songs they knew, and showing us big love on the songs from the new CD. They must have liked the new songs, because we sold more copies of our new "Here For A Good Time" CD's that night than any CD we had ever sold in the history of this band!
We saw tons of old friends before and after the show, and did a big hang with all of them. Some of our peeps were there, including Paul Newcomb and his better half Rita, both of whom we adore and who are a big help to this band. One of
our long time promoters, Pete Feenstra, was in fine form as well! Pete had been dipping his foot in the water in the fashion department, and I didn't want him to think it went unnoticed. I usually give Pete a little flack for his choice of sweaters, but tonight he was on point, looking like a French magnate of some sort, with a colorful scarf and long coat. Upon seeing him in our dressing room I said, "Hey Pete, great outfit, man! "Pete being English, thought I was "taking the piss" but I wasn't. He was rockin' out, and did a great job as master of ceremonies for the gig. We also got to hang out with some of our favorite people in the world, Alan and Lisa from Raw promotions. They are some of the most fun people ever, and have done more than anybody in the Midlands to keep a viable music scene going. Truly dear hearts of ours, and we love them to death! This was one special gig. It always is! Thanks to all that came and to all concerned!
Mike 
Feel free to comment on this! Also, please share it on your Facebook page or twitter! Thanks!