January 25/26 2015
                     Swansea UK- Worthing UK-Evesham, UK
                                         The Iron Road
The day of the Swansea gig in the last installment,
we were installed in a hotel near the M4 "motorway"
(that's "interstate" in American English) in a certain
chain hotel that the band had pretty much swore off a
couple years back. As it turned out, said chain has been
making some major renovations and this one was pretty
dang OK. Clean, decent shower, and the room was warm.
Basic necessities for a band that is on the road in the bitter
cold for a month, staying in a different town most nights.
Not a complaint was heard.   
I woke up Monday morning a bit late. We were leaving at 11:00 am and I hadn't finished yawning until 10:45. I started packing up and realized I couldn't find my wallet. Not really unusual, this happens once a tour or so, it must be here somewhere. After destroying the room, emptying my suitcase and computer bag, inventing new cuss words and running in a panic to the bus and searching it twice, I remembered where I put it. I have a tendency to hide my important belongings in places where no one can find them. Including me.  
Sigh. I went to the restaurant and took advantage of the 20% off deal they had for staying at the aforementioned hotel. To call it marginal quality food would be an overstatement, but I was starving so I didn't care. Today is a "travel day". A travel day means there is no gig that night, but we have to pull up stakes and go in the direction of the next gig, take care of some kind of business, catch a plane, train, ferry, or take the Eurotunnel. Sometimes it's any combination of all or most of the above. Our travel days are normally pretty long, and today was not going to be an exception.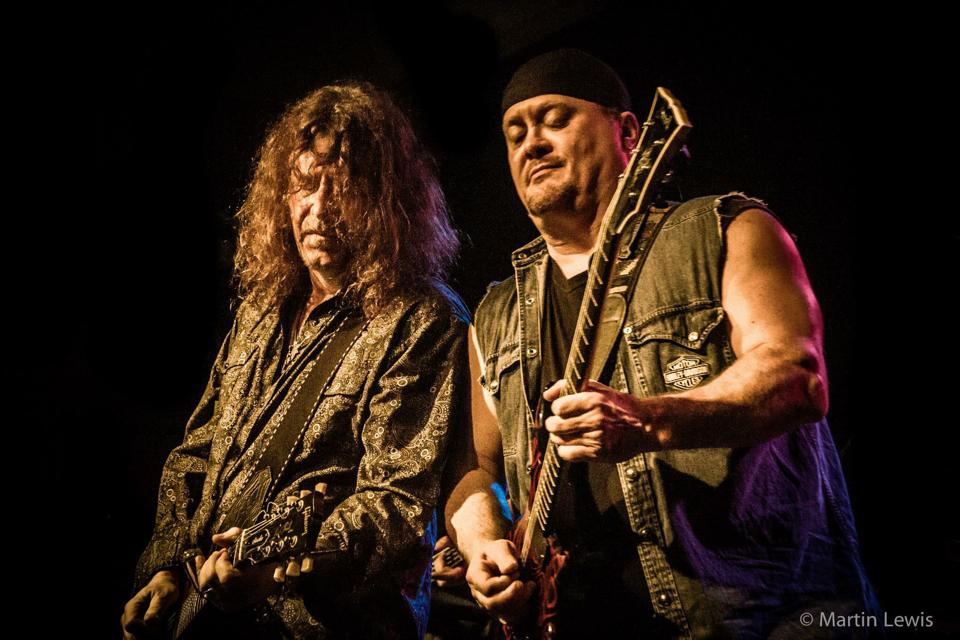 It was also going to be a sad day, as we would be bidding farewell to our good pal Dave Gingell. He had to get back to his normal work commitments. Dave did a fabulous job as driver and merch man for the 4 days he was out. He was obviously born to be out on the road. I wish everybody could meet Dave…he's always ready with a story or anecdote, whether you want to hear it or not. But seriously, as soon as he gets over his sensitivity, he will be a true road warrior. Dave knows, and you should know, I'm only kidding here. We were going to miss him and I knew it.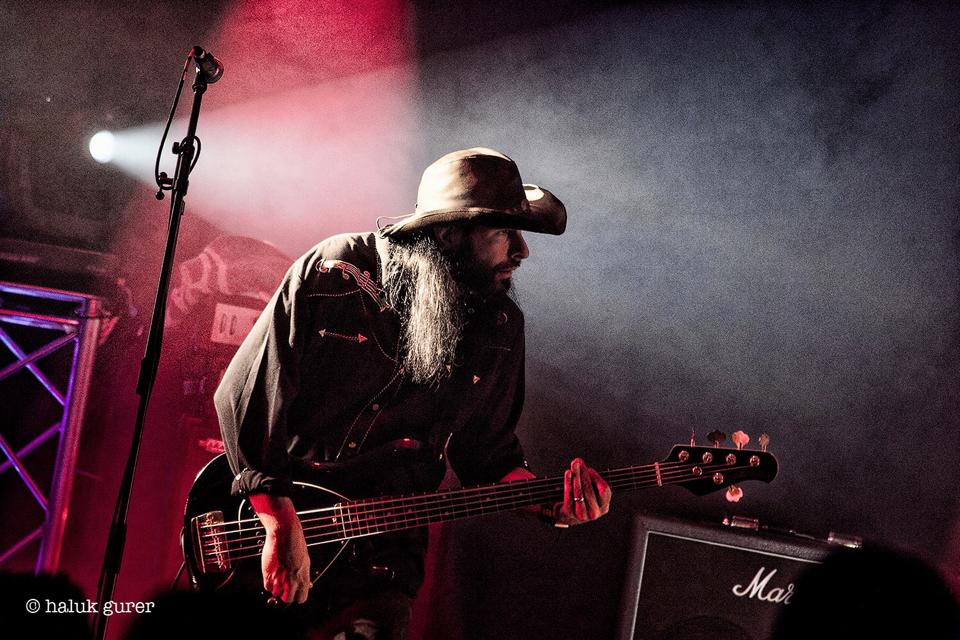 Like an ol' cowboy going out for one last ride, Dave took the wheel and we drove four hours or so southeast towards his home near Worthing. We would also be picking up a guitar of mine that he keeps watch over. I keep guitars in 3 or 4 different states and several different countries in case I get stuck somewhere and need one. I only leave them with my most trusted friends. Dave's one of those guys. We were met by his lovely wife Sandy and fourteen cats. I'm kidding. Not fourteen! Only twelve.  Dave makes a mean cup of tea, some of the best I've ever had, and so the band hung out a bit, talked and laughed and drank tea until it was time to leave and head back up north. We said our goodbyes and we were off. 
I usually have the hotels booked for us weeks in advance, but I left this day open for whatever was going to happen, as we weren't set on any plan. I just knew we'd be doing some driving. While at Dave's we had looked on the net for a hotel close to the next gig in Evesham. It was a three hour or so drive back to the  north. Everything nearby was ridiculously expensive, as it wasn't too far from the famous University town of Oxford.
I decided to call the promoter for the next night's gig, a fellow known as simply as Muntley (this was a new gig for us, so we'd never met) and ask him for a recommendation. He told me to just come on up and he would put us up in the band house that night off for free. Perfect! He also informed me that he would open the normally-closed-on-Monday bar for us. MORE perfect. I already liked Muntley, and I hadn't even met him yet. We headed for Evesham, making just one stop to get food and beverage rations when we got close to the club.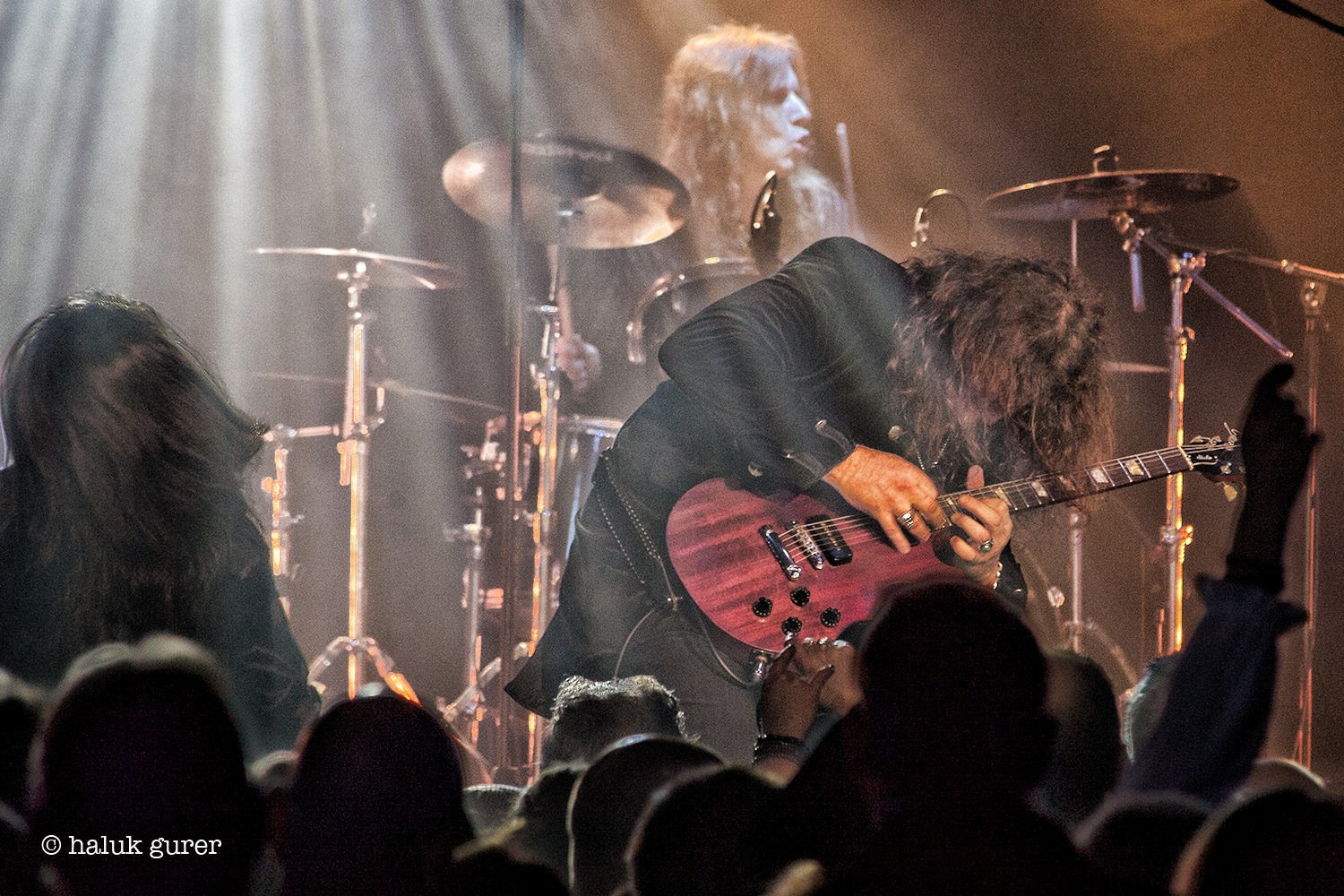 It's really tough to eat healthy on the road, mostly because you don't want to. I always buy some kind of cheddar cheese, Coke, Mini Cheadars, yogurt bars and some sort of red wine or beer. The cheese in Europe and the UK that's available in filling stations is better than any cheese you can get in a five star restaurant in the States in my mind, so I take full advantage of it when I'm over.

If you want to see really strange snack choices, you should talk to Luke. I have no idea where he comes up with this stuff, but I can tell you that what ever it is he buys, it doesn't say "organic" or "natural" on the package and is probably powered by some sort of laboratory concocted onion flavor. Kurt keeps Coke Zero and Doritos in business, and Jay gets sandwiches and the things to make more sandwiches. 
Loaded down with a day's worth of supplies, we did the last mile to where the gig would take place, the Iron Road. We were met by Muntley and his lovely better half. They gave us a tour of the venue, which was built a LONG time ago. The woodwork was awesome, and they had a good selection of beer. I felt right at home. I was a little worried about the size of the room because live, this is a loud band. But it was a cool place. Lots of people you have heard of play here regularly. Muntley assured us there was a good pre sale on tickets and that folks around the area came to his venue for the music. Awesome! That's what we like to hear!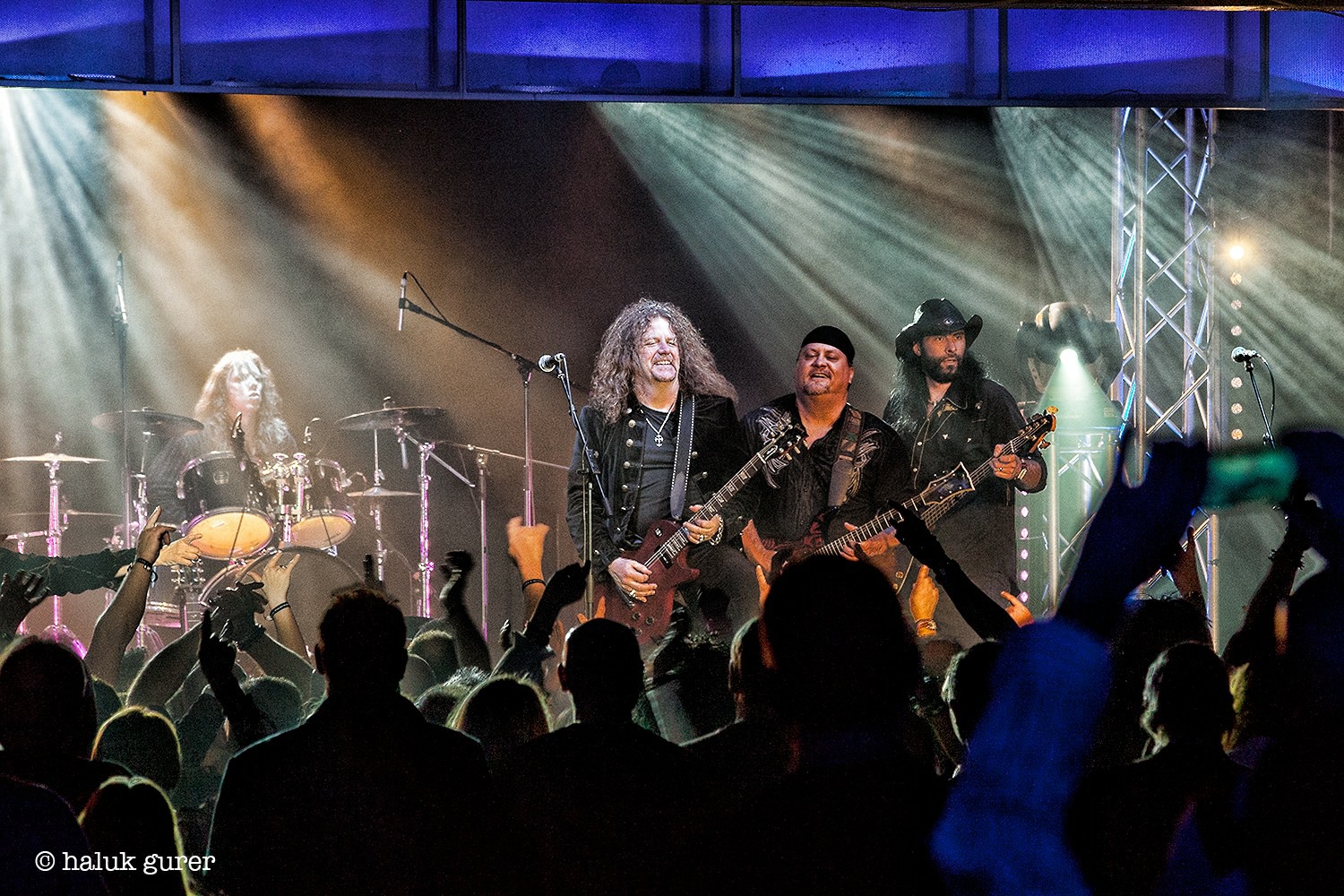 We wrapped the night up early and went upstairs to the band house. It's spacious and has a kitchen. We plopped down on the various couches, but Jay sat in a chair and broke it after setting up his makeshift office. We turned on the TV, trying to settle in. I was worn out and had a stuffy nose. No sneezing or sore throat, so I didn't worry about it. Jay and Luke went after more supplies and to buy credit for one of our "hotspots" that we use on the road for internet. It was dang cold and I was dang tired. We found an American football highlight show on TV from the 70's, back when it was a real game in my opinion. We found out right away that the internet hotspot credit gets burned up very quickly if one does any sort of internet phone call. Fifteen minutes after getting in the band house, Jay was headed back to the store to buy more credit. Nobody else moved.
The next day, I woke up feeling a bit run down with a scratchy throat, but nothing horrible. Everybody was in a decent mood, and we spent the day doing laundry. To watch this band do laundry is actually pretty hilarious. I'm really picky about not drying my clothes in a dryer, so I have to find places to hang wet clothes. This is why I'm able to keep the same clothes for 20 years. You know, because they are bound to come back in style (As if I care). Luke is real picky about not being real picky. His suitcase and it's contents are actually listed as a "must see" detraction in the Official UK Home Office Of Natural Detractions Registry. Kurt turns the heat up in his room to a million degrees fahrenheit to dry his clothes. Trust me, even for ME it's hot. And I LIKE heat. Jay just wants to make sure he doesn't have to pay for washing his clothes. He makes use of sinks and showers throughout the land, and his clothes look like it. Socks, drawers, jeans and shirts are strewn and hung everywhere, in complete half organized chaos. 
Laundry done, food eaten, phone calls made and emails answered, we headed down around 5:00 for soundcheck. I love being able to stay at the place we play (aka a "play and stay") or at least real near it. It's a hassle packing up and driving an hour or more after a gig, because if you have done your job that night, you are worn out after the show. You just want to do the "after show hang" with the crowd and go to the hotel and flop down. A play and stay takes the pressure off after the gig, as one can hang longer without worry.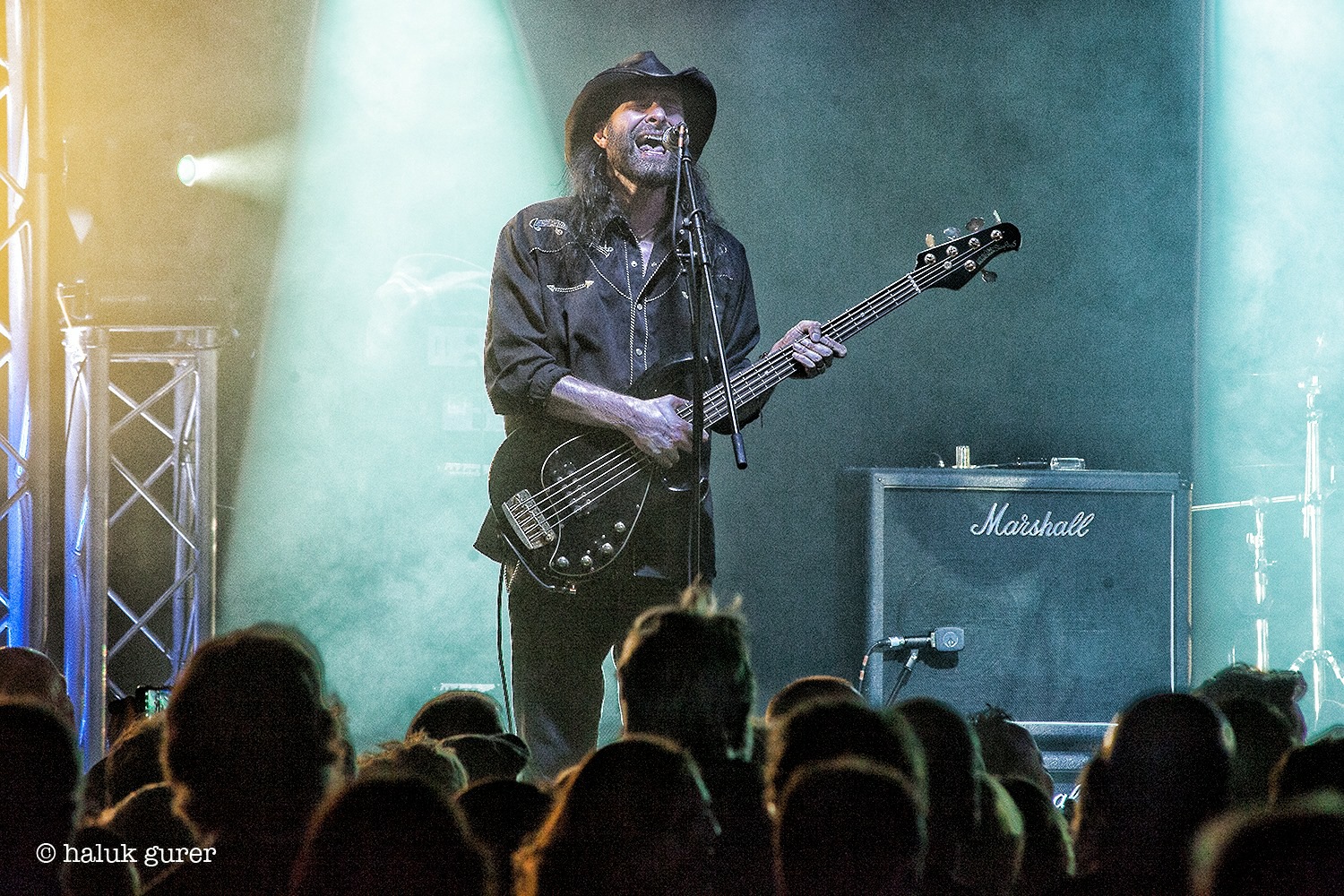 Soundcheck went great, pro engineer all the way and a good house system. Twenty minutes and we were done. Time for more food and refreshments.
I was starting to get a little sneezy. My throat hurt a little bit more. Now I was starting to worry a little. I hate singing with a cold and have done it countless times. It's NEVER fun. But I'm not quite convinced it's a cold yet. Wishful thinking.
We normally come to Europe armed with enough Zycam (Zycam is a cold length and symptom reducer that actually works) to take care of an armored tank division. Zycam or some reasonable facsimile thereof isn't available in the UK or Europe, so we stock up before we come over. As Americans, we haven't been previously subjected to a ton of the "same colds" that they have here, so our immune systems aren't prepared for it. One is especially vulnerable when worn out tired, as we are most of the time. I doubled the normal Zycam dose, and felt better not long after. 
We played a really fun show, and the place was pretty filled up. If memory serves, we played a longer than normal set. With this band, close quarters make for a tight show, and it was. The show went well and we had a great time!

One highlight was seeing some friends that had come a ways from Wales. The biggest highlight for me was being surprised by the arrival of my "adopted son", one Ash Sims (aka "Mr Sims") and his parents. Ash is a very talented drummer who filled in for Kurt on a couple of tours many moons ago. 
The back story goes like this: In 2005 upon our arrival to the UK, Immigration declared Kurt unfit for public consumption due to his lack of a proper work permit. It was a complete nightmare for all concerned. Kurt ended up with a big black X in his passport and was deported back to the States. (Even a year or so later, after it was all straightened out, Kurt would get pulled in UK Immigration and get the evil eye and an extra going over when we arrived) But after realizing Kurt wasn't getting in the country, I went to 911 mode. We had a tour to complete and needed a drummer. I knew at least Kurt wouldn't be charged with anything, and they would send him home. The band was just starting to get somewhat of a following and the worst case scenario was canceling the tour, especially since we had put out all the money for plane tickets. We had some hustling to do. The first show was the next night.
Ash was recommended to me by a friend. Things might have went differently if the aforementioned friend had told me that Ash was all of sixteen years old. I ended up having to tell the promoters that he was my son so he could get into the clubs. Before he went out on tour, I met his parents, and thank God they trusted me enough to let him go on tour. I promised them I'd take good care of him on the road, not let him drink and that's what I did. (Well, except once. That too, is another story) I even took him to Dubai in United Arab Emirates for a show. 
Ash did a great job on those runs and was a blast to hang with. He's a full grown man now, with a wonderful family of his own. His entire family are some of the nicest folks on the planet. These days, he has his own incredibly cool rock band called Invisible Vegas. They play like they mean it. I dig that. Do yourself a favor and check them out.
After hanging with our friends, the night wound down and I was really glad we were staying over because I was definitely getting sick. I announced the bad news to the band, and they scattered like cockroaches. I don't blame them. I would have too!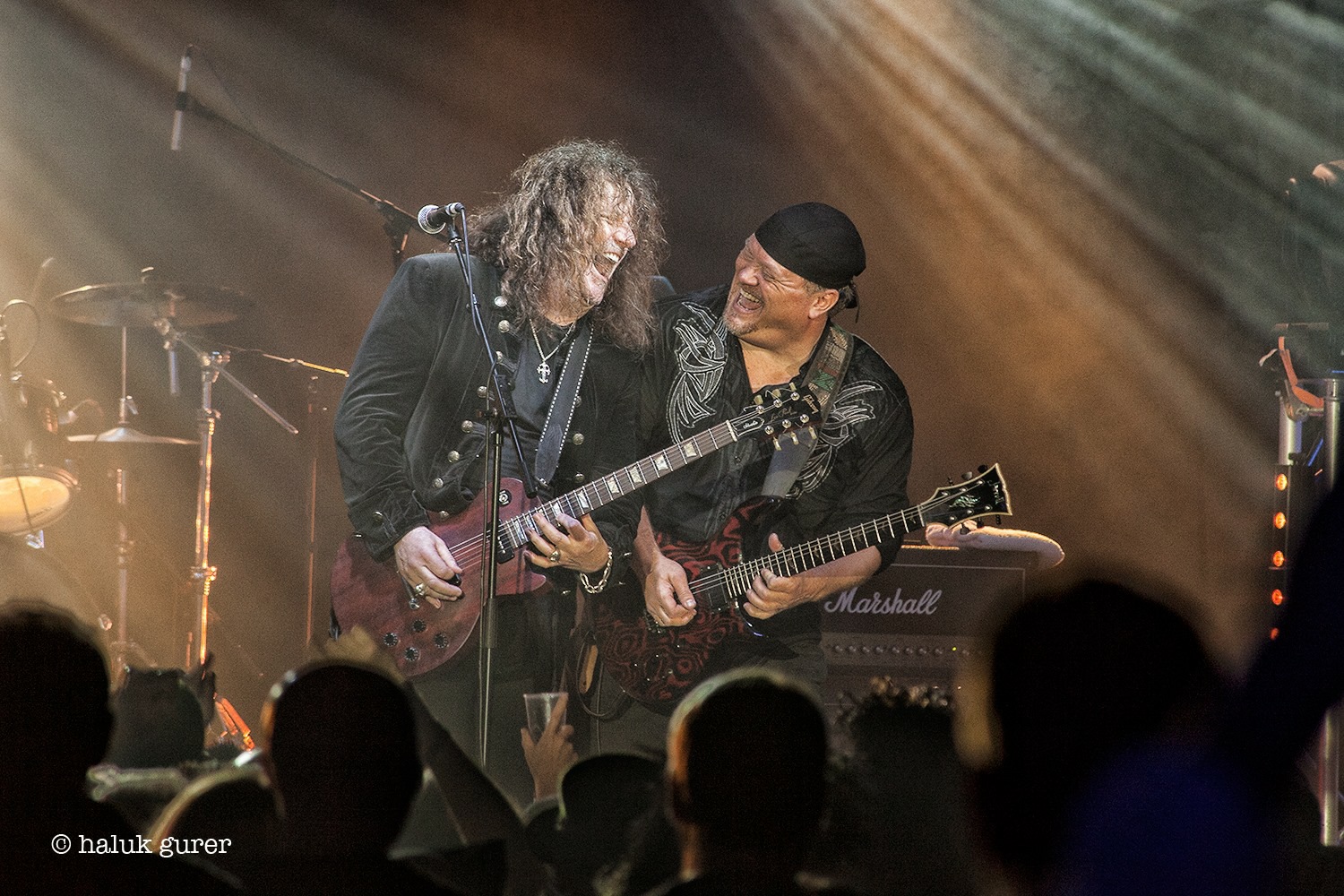 Normally, Luke is the usual suspect of bringing a devil's cold to our ranks. But for the last tour and for this one, I was the guilty party. All the hand washing and keeping my hands away from my face didn't work. I felt bad about it, and didn't want anybody else to get it. Driving for hours a day in a bus makes that near impossible. I felt the cold shakes from a fever and crawled under the covers in bed near a heater with my trusty bottle of Zycam close at hand. 

The only barely bright spot was that I know how to get through a show in this condition without too many squeaks or sounding too much like a sick duck. But "getting through" a show ain't what this band is about. Kicking ass is. I was going to have to try and get over this thing as quickly as possible. After all, I was here for a good time!  Although I was confident I could shake it, we'd just have to see. And that's the scary part. 
Thanks to all that came and to all concerned!
Your comments are more than welcome and feel free to share on your fave social network!
Mike